If you've ever used Google Analytics and have been discouraged by misleading bot traffic, here is a quick tutorial on how to remove those unwanted statistics from your account. It is estimated that 60% of all internet traffic is robots and spiders. Follow these easy steps with our helpful visual graphics and reply with any questions.
Step 1 – Bot Filtering
Click Admin > View Settings and check the Bot Filtering to have your domain excluded from all hits from known bots and spiders. To navigate, click on Admin > View > View Settings >Bot Filtering > Exclude all hits from from known bots and spiders

Step 2 – Filter Ghost Bots
First, to view potential incoming bots, navigate to Reporting > Acquisitions > All Traffic > Referrals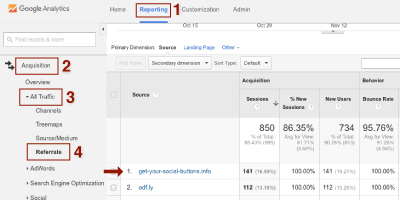 To apply a ghost bot filter, navigate to Admin > View > Filters > + Add Filter
Search engine algorithms continue to improve with every update, but not all search engine bots should be excluded. It is important to remember that adding unverified sites to your negative list may discourage bots from legitimately crawling your site for search ranking factors. Blocking bots from indexing your site causes the potential of loosing seo rankings in google, bing and other search engines alike. Always check and verify sites before adding to filter list.
It should be noted that there is no universal solution to removing all bots from Google, but listed above are a few things you can do to clean up your analytics account.